The Retention Institute's Certified Employee Retention Professional Program (CERP)
C-Suite Analytics and The Retention Institute offer a one-of-a-kind certification program for employee retention. The program is titled the Certified Employee Retention Professional Program and is referred to by the acronym CERP.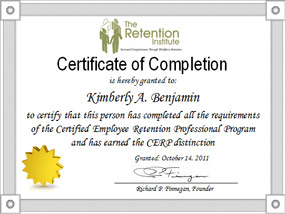 The CERP is a highly effective employee retention program that is based on Dick Finnegan's acclaimed book, "Rethinking Retention in Good Times and Bad". BusinessWeek referred to Dick's book as "offers fresh thinking for solving the turnover problem in any economy".
Included in the book is the Rethinking Retention Model®, which offers the first research-based method for solving employee turnover. The model offers shared responsibilities for HR and line managers to together take specific actions to improve employee retention. The CERP is based directly on this model and offers tools for improving retention that touch both the HR side and the manager side. Important features of the program include:
Online: The program is delivered online so all tools are easily accessible and require no travel or meetings for completion
Action-Based: Most certification programs ask candidates to study information, pass tests, and then be awarded certifications. The CERP is action-based versus knowledge-based, as candidates must apply 10 specific tools to their organizations in order to reduce employee turnover in real time, resulting in actual positive outcomes for the organization instead of successful test-taking by one employee
Skill-Building: Candidates graduate from the program with powerful skills they can apply over and over to their current and future organizations, making them more valuable to their employers
Certification: Successful candidates are awarded the Certified Employee Retention Professional designation by The Retention Institute
SHRM Certification: In addition to the CERP designation, SHRM has awarded the CERP program up to 26 credits that candidates can apply to their continuing SHRM re-certification efforts.
Guaranteed Results: All candidates will contribute major positive changes to their organizations or their investment is refunded.
In addition to the above benefits, organizations have applied the CERP in a number of ways including the following:
By delegating down…HR executives have asked subordinate HR professionals to enter the program so the executive can oversee that professional's development while the organization benefits from the application of the retention tools
Solving multiple divisions…Organizations have nominated groups of 5 or more HR professionals for the program so retention is addressed concurrently in multiple company locations or departments
Applying expert guidance…Dick Finnegan has worked directly with groups of candidates from the same organization to coach them on prioritizing and using the tools most effectively, doing so either onsite or by teleconference
Asking for self-nominees…Candidates have nominated themselves to participate in order to become retention experts to improve their both their current and long-term careers, perceiving they can become heroes in their organizations by solving employee turnover
CERP Content
The CERP program addresses the missing piece in most employee retention initiatives, that line managers must accept accountability for retention as they do for sales, service, quality, and safety. Along with accountability come specific tools that managers implement to better retain their teams. The result is true retention synchronicity, that roles and responsibilities for HR and line managers are both effective and clear.
The CERP is offered in 6 modules in the form of webinars, videos, and tools that are delivered online. The program includes tools on the following topics:

Module #1: Building Blocks
Executive Sponsor
Organizational Areas
Turnover Cost Study
Module #2: Operationalizing Retention
Retention Goal-Setting
Exit Surveys
Module #3: Tool Building
Employee Value Proposition
Employment Branding
Trust Building
Module #4: Narrow the Front Door
Hiring Those Who Stay
Check Progress
Module #5: Script the First 90 Days
Module #6: Challenge Policies
Policy Review
Strategic Benefits

Candidates initially choose an executive sponsor who counsels them on their program completion and also verifies that the candidate successfully completes each module and the overall program. Candidates typically complete the program in 3 to 6 months, and then earn the Certified Employee Retention Professional distinction.

The CERP is a timely, smart, and effective way to attack employee turnover with research-proven tools. For organizations, the major win is that turnover is reduced by the right prescription of HR and line manager initiatives. For candidates, new skills are developed and careers are enhanced by equipping them with tools to solve employee retention, which until now has been an elusive pursuit.