Now that you survived the recession, will you survive the recovery?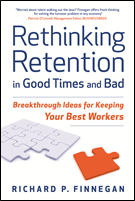 Recessions take away profits but recoveries take away people. Unless you escape the trends from past recoveries as well as current workforce predictions that more workers will quit, your employee engagement is sinking and your turnover is about to rise.
C-Suite Analytics helps executives rethink employee retention and engagement with new solutions that challenge the current paradigm of excessive surveys, salary reviews, and various employee programs. Our work is based on our CEO´s ground-breaking book, Rethinking Retention in Good Times and Bad, noted by BusinessWeek as "offers fresh thinking for solving the turnover problem in any economy".
The C-Suite Analytics solution-set reflects our company name. While others approach employee retention and engagement with their full focus on Human Resources-driven programs, our own research confirms that solving these critical business issues require business-driven solutions that start at the top.
All C-Suite Analytics' clients are eager to serve as references, and can tell you about improvements in retention and engagement of 20% and more.